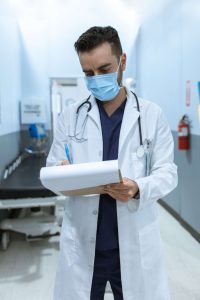 You're facing an unplanned pregnancy but aren't sure which pregnancy option is right for you. If you're considering abortion, it's important to learn about the various options available to you and to understand the process involved in each procedure. 
Here are the various forms of abortion explained: 
Medical Abortion

Also referred to as "the abortion pill," a medical abortion is a chemical procedure used to end a pregnancy in the first 10 weeks (or 70 days) of gestation. The process involves taking two drugs — mifepristone and misoprostol.

The first drug, mifepristone, is used to prevent the body from absorbing the hormone called progesterone. In order for a pregnancy to progress and grow, it requires the help of progesterone; without it, the pregnancy will be terminated.

After the pregnancy has ended, typically within the first 24 to 48 hours, the patient will take the second drug, misoprostol. Misoprostol causes contractions so the body can begin to push the terminated pregnancy tissue from the uterus.

The fetal tissue will leave the body in the form of large blood clots — sometimes as large as a lemon — through a painful process of cramping. 
Surgical Abortion

In comparison to medical abortions, surgical abortions are available throughout the various stages of pregnancy. 
First-Trimester Surgical Abortions

A Dilation and Curettage (D&C) abortion is a procedure typically available in the first 12 weeks of pregnancy. This procedure requires that the abortion provider dilate the cervix and remove the pregnancy tissue by scraping the uterus with a curette (scraping tool).

Available up until the end of the 14th week of pregnancy, a Suction Curettage abortion utilizes a suctioning device to empty the fetal tissue from the uterus after the cervix has been dilated. Once the tissue has been removed, the provider will scrape the uterus to attempt to remove any remaining fetal tissue.

If fetal tissue is left in the uterus, the woman may be at risk for abortion complications such as infection, hemorrhaging, and sepsis.  
Second-Trimester Surgical Abortions

In the second trimester, a surgical abortion procedure requires a more invasive process as the fetus is too mature for first-trimester abortion procedures to be effective.

In a Dilation and Evacuation (D&E) abortion, the fetus must be broken down into smaller pieces so that the bone and tissue can pass through the dilated cervical opening. The broken-down tissue will then be removed using scraping techniques, suctioning, or forceps.  
What Are the Side Effects and Risks Related to Abortion? 

It's important to note that abortion, whether medical or surgical, is a serious procedure and may be accompanied by side effects and risks.

The abortion pill has been associated with nausea, fever, chills, dizziness, diarrhea, weakness, vomiting, and headaches, as well as infection, sepsis, and hemorrhaging in the case of severe complications. 

Surgical abortions may be accompanied by similar risks and side effects as medical abortions. Additionally, surgical abortions may result in damage to internal organs due to accidental perforation. 
How Can I Know if Abortion is Right for Me? 

If you're experiencing an unplanned pregnancy, your decision-making process may be accompanied by feelings of uncertainty, fear, and worry.

Before scheduling an abortion appointment, we recommend first receiving a medical-grade pregnancy test to ensure you're still pregnant, as well as professional options advising.
What Other Free Services Does Metro Women's Center Provide? 

If you need help during this time, Metro Women's Center provides all of the following services at no cost to you:

Pregnancy tests

Referrals to community resources 

Options advising

Referrals to OB/GYNs for prenatal medical care

Limited ultrasound referral services

Amazing Grace Home housing opportunity

Alternative schooling assistance

Post-abortion recovery services

Financial aid resources

Spiritual assistance referrals

Parenting classes

Future planning
Ready to learn more? Schedule your free appointment today!